"Live From Sour Apple" – Ep11 Big D Edition
You know this is the show which gives you the question of the day M-F and you get to answer and get live feedback from the guest. So what you waiting on Show me what you got. ****Make sure u log in by clicking "FOLLOW" so you can join in on the fun.*****
Oh and follow the movement @ www.fiestamovement.com/agent33And Buy a copy of my Movie "Family Values" @ www.indieflix.com Get it NOW.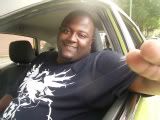 For more pics go to www.fiestamovement.com/agent33
Damien "BIG-D" Crosby
Got his big break into the entertainment Industrie via an Internship at Chicago based
Ch'rewd marketing and promotion. Under the Guidance of Ch'rwed and with the Mentorship of Rory D. Smith, "Big-D" would go on to successfully developed, managed and execute national lifestyle, experiential, urban and youth marketing and sales promotion programs. As a proven urban influential "Big-D" has over 10 plus years of progressive advancement leading and consulting marketing teams for highly respected global brands and agencies.
While working so close in the entertainment industry with musicans, Producers and various Dj's
"Big-D" realized he had a uniqe ear for music which lead him into Djing
and producing music for Loacal and National artist.
Damien Big-D crosby was also featured in the first print ad for e-bay.