You know this is the show which gives you the question of the day M-F and you get to answer and get live feedback from the guest. So what you waiting on Show me what you Got.
****Make sure u log in by clicking "FOLLOW" so you can join in on the fun.*****
Oh and follow the movement @ www.fiestamovement.com/agent33
And Buy a copy of my Movie "Family Values" @ www.indieflix.com Get it NOW.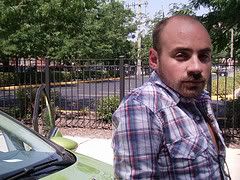 For more pics go to: www.fiestamovement.com/agent33
Erez Shek is a Jeff nominated actor for his work with Nick Minas and Blindfaith Theatre in "Stand Up Tragedy". Favorite theatre credits include "Game of Love and Chance" (Harlequin), "You're a Good Man Charlie Brown" (Linus), "Floss" (Imobu), "When Shakespeares Ladies Meet" (Ophelia). He can also be seen in the Love Above All Production movie "Family Values" as Ian. He can currently be seen (until August 22) in "Decadence", the horror comedy extravaganza. You can catch "Decadence" on Friday and Saturday nights at the Post Family Gallery which is located at 1821 W. Hubbard. The show starts at 8pm, you wont be sorry! For more information on Erez check out his website at www.erezshek.com. PEACE!