"Live From Sour Apple" – Ep18 Binky Edition
You know this is the show which gives you the question of the day M-F and you get to answer and get live feedback from the guest. So what you waiting on Show me what you Got.
****Make sure u log in by clicking "FOLLOW" so you can join in on the fun.*****
Oh and follow the movement @ www.fiestamovement.com/agent33
And Buy a copy of my Movie "Family Values" @ www.indieflix.com Get it NOW.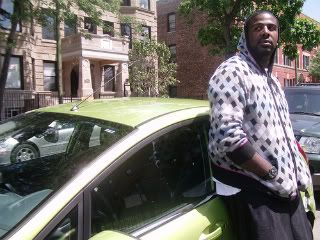 Lawrence Tolefree also known as Binkey!!!!
He is one out of 8 of the prolific poetry ensemble called Verbal Balance!!
.2006 MGD Freestyle Champion
.BET New Face Finalist
.Jokes and Notes Open mic Stand up winner
.Mixtape Mondays Rap Battle Champion
.Creator of Just-Us Improv
.Actor in numerous plays at Chicago Theatre, DuSable Musuem and Apollo
Binkey can do it all. He also puts his money where his mouth is. He teaches writing comprehension in the inner city schools and also teaches customer servive for non for profitt organizations. Binkey is an excellent writer and his comedic timing can not be matched. He can host anything from poetry sets to barmitzfas. (and he has too!!) He sings,does poetry, freestyles, writes plays and skits, acts and host a open mic every wed on the southside of Chicago!!
You can reach him at 708-821-4504
myspace/binkgotskills.com
Lawrence Binkey Tolefree @ facebook
binkeythepoet@yahoo.com