"Live From Sour Apple" – Ep15 Anika T. McClure Edition

You know this is the show which gives you the question of the day M-F and you get to answer and get live feedback from the guest. So what you waiting on Show me what you Got.

****Make sure u log in by clicking "FOLLOW" so you can join in on the fun.*****

Oh and follow the movement @ www.fiestamovement.com/agent33

And Buy a copy of my Movie "Family Values" @ www.indieflix.com Get it NOW.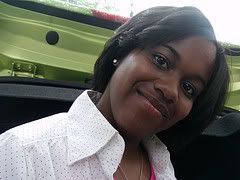 For more pics go to www.fiestamovement.com/agent33
Biography of Anika T. McClure
I started at Chicago Sate University Fall of 2004 as a pre-med/psychology major. About
a year being in the pre-med program I decided I would change because it was
something I was no longer interested in doing with my life. I switched to
communications, media arts & theatre at Chicago State in Fall 2005. In 2005-2006, I
was a radio personality on WCSU Radio and a news anchor on WKKC. In 2006 I shot
and produced and directed my first few video projects and got into editing projects as
well.
I was very much involved in extracurricular activities at Chicago State University. I was
an executive board member for the NAACP chapter at CSU. I was a member of
ImageMakers, which was a Public Relations student-ran organization. I won 2008-2009
Chicago State University Homecoming Queen. I was on the Nation Dean's List for my
academic achievements. And finally upon graduating from college, I was inducted into
the Chicago Teachers College/Chicago State University Alumni Association.
In August 2007, I went to Winston-Salem, NC, to the National Black Theatre Festival
where I worked down there. Lots and lots of experience and something that was great
for me to be down there and part of. Things started to skyrocket from there. September
2007, I went down to Jena, LA to shoot a documentary on The Jena 6. During the fall
2007 I worked on a show pilot called "Travelers with Disabilities Having Fun" and
winded up shooting a main pilot of the show with Royal Carribbean in January-February
2008. We traveled to Miami, FL; San Juan, Puerto Rico; St. Thomas, U.S. Virgin
Islands; and St. Maarten/St. Martin and did live shoots during the 7-day cruise. I wrote a
few short films and completed my full feature film screenplay and worked on a few other
independent projects of my own.
Fall 2008, I started my own production company, Fusion Chilled Productions. April 2009
I started my entertainment company that is an entity of FCP, called Pink Fusion
Entertainment. I graduated May 2009 from Chicago State University with a Bachelor's
degree of arts in Communications, Media Arts & Theatre and a minor in Radio &
Television Broadcasting.
I still continue to work on several projects such as PFE's first project is a fashion show
coming in September 2009. And finally FCP & PFE is also in the process of starting a
not-for-profit organization called "The Million Dollar Girls Club" in winter 2009/spring
2010 to help under-privileged and inner-city young ladies.