"Live from Sour Apple" – ep3 Liz Toussaint edition
You know this is the show which gives you the question of the day and you get to answer and get live feedback from the guest. So what you waiting on Show me what you Got.
Oh and follow the movement @ www.fiestamovement.com/agent33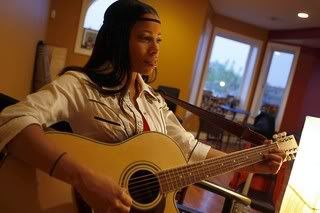 Biography
Get ready for Country Soul from a City Girl.
Chicago's singing sensation Liz Toussaint alone, is a walking party, has Louisiana running through her veins, and a voice as big as Texas! Add that with 6 talented band members and you're guaranteed a good time!
She performs hits off her debut album "Country Soul" and covers many favorites like "When will I be loved" by Linda Ronstadt and "If your not" by Shania Twain. Liz improvises and interacts with her audience, sometime including them in the show. One audience member from the Illinois State Fair said: "It was so fun to watch the children on stage dancing with her, my kids had a ball!" Liz has Wowed audiences at County and State Fairs all over with rave reviews.
After opening for Comedian Cedric the Entertainer to a standing ovation, Liz is quickly gaining a reputation for being a hard act to follow. She comes from a blood line of great talent as she is related to Allen Toussaint who has written, arranged, produced and played piano for many of the best New Orleans R&B records ever made. The youngest of seven, Liz was influenced by diverse genres of music, citing Country, R&B, Gospel, Deep House and Salsa among her many influences . When speaking of her music she says, "I could not ignore one genre for another; I just sang what came out and accepted it for what it was... "Country Soul."
Currently studying at the Old Town School of Folk Music in Chicago, Liz is dedicated to her craft and destined to be the next ground breaking artist from Illinois. She continues to work on major developments with her project, while traveling and performing throughout the U.S.