Random Hotness – Jeremy Collins of Distinct Image
Distinct Image Production Company
Bio:
WE ARE A PRODUCTION COMPANY DEVOTED TO MAKING GROUND-BREAKING FILMS. WE ARE ALSO HERE TO PROVIDE VIDEO/EDITING SERVICES TO ANY CLIENT. REELS, MUSIC VIDEOS, EPK's, ADVERTISEMENTS, AND PROMO VIDEOS ARE ALL AMONGST THE SERVICES WE PROVIDE. ANY BUSINESS INQUIRIES PLEASE FEEL FREE TO MESSAGE US OR EMAIL US AT distinctimageproductions@yahoo.com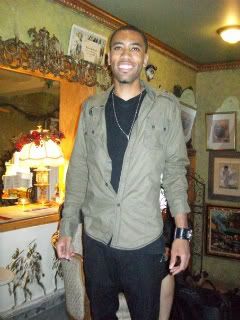 Jeremy has made my Random Hotness section because he is the epitome of a young hard working filmmaker. Jeremy is a new age writer/director and has the uncanny ability to paint a picture with no script. He is the Hova of Filmmakers. In one of his latest works "Bria's Interlude" by Drake the young Filmmaker just picked up his camera and drafted his cast and shot on the cold streets of Chicago at 2am. No script in hand just a feeling from the melody of the music. Jeremy always says "I just love Classic Solid Shots and I want to tell a real story".
Right Now the "Cinematic Assassin" is working closely with Award winning Director Derek "Pretty Boy" Dow. Jeremy is the "Go to Guy" for all the main missions that Dow is doing for the national Fiesta movement Campaign. He is a young man who you definitely need to keep your Eye out for.
Works of Jeremy:
The Portfolio of Jeremy D Collins
Bria's Interlude
Fiesta missions 1 & 3
For more on Jeremy to:
www.myspace.com/distinctimage